---
back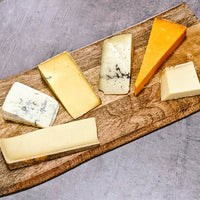 Christmas Cheese Selection (with Blue Cheese) - Order by 30th November to Guarantee a Sumptuous Christmas Spread
Regular price £40.00
Tax included.
The Luxurious Festive Cheese Collection (with Blue Cheese) 
Order by 30th November to Guarantee a Sumptuous Christmas Spread
Treat yourself to an exquisite cheese journey this festive season. Hand-selected from the distinguished Courtyard Dairy, each cheese in this collection is a testament to traditional dairy craftsmanship. These cheeses are specially chosen to harmoniously complement the fine Wine, Beer, and Ciders we offer.
Inside this Artisanal Selection, you'll find:
200g Baron Bigod Brie: Crafted in Suffolk, Baron Bigod is the UK's only traditional raw milk Brie, offering a creamy texture with a delicate yet full flavour.

200g Hafod Cheddar: Produced in Wales, Hafod Cheddar boasts a distinct rich and earthy flavour. Made from organic cow's milk, its taste reflects the biodiversity of the pastures where the cows graze.

200g Kirkhams Lancashire: A true classic from Lancashire, this cheese offers a buttery, crumbly texture. Made using traditional methods, it has a tangy profile with a melt-in-the-mouth feel.

200g Stichelton Blue Cheese: An artisanal take on Stilton but made with raw milk, Stichelton offers a rich and creamy texture with a balanced blue flavour.
Kindly note: Your selection will grace your doorstep just prior to Christmas, ensuring the cheese is in peak condition. Should you desire an alternative delivery time, kindly specify when placing your order.
Images are illustrative. To fully enjoy your cheese, consider pairing with our exceptional range of crackers, available separately."