---
back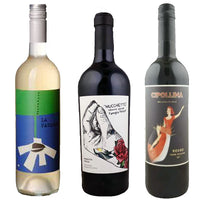 Our Quintessential Christmas Wine Trio - 3 x 750ml Bottles
Regular price £40.00
Tax included.
The Quintessential Christmas Wine Trio
Immerse in this handpicked trio, and let each bottle transport you to a winter wonderland, making your Christmas celebrations truly unforgettable.

---
La Patagua - Vinos Inacayal - Aromatic Semillon Moscatel
Emanating from Chile's sun-kissed terrains, this white wine sings with notes of ripe citrus, tropical allure, and the delicate whisper of white blossoms. Like a fresh snowfall, its crisp and invigorating character effortlessly slices through the sumptuous richness of Christmas feasts, refreshing your palate with every bite.
---
 Mucchietto Primitivo IGT Puglia 2022
From Italy's storied heel emerges this heart-warming, spicy red, brimming with opulent fruit notes, a touch of cinnamon, and the comforting embrace of sweet spices. Capturing the essence of yuletide warmth, its robust flavours mirror the enchanting spirit of Christmas, reminiscent of cosy fireside chats and twinkling lights.
---
Cecilia Beretta - Cipollina Rosso DOC Nero d'Avola Terre Siciliane 2021
Hailing from Sicily's rustic landscapes, this velvety red wine is infused with the passionate aroma of cherries, the richness of ripe plums, and a hint of dark allure. As the night matures, let it serenade your festive table, perfectly accentuating dishes like succulent duck, tender lamb, and sinfully rich chocolatey desserts.
---