---
back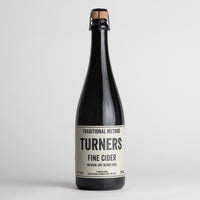 Turners - Fine Cider Vintage 2020 - 8.5% Traditional Method Cider - 750ml Bottle
Regular price £20.99
Tax included.
This is cider made in the 'Champagne method', like the famous sparkling wine. It's elegantly presented in a black Champagne bottle and finished with a traditional cork and black wire cage. Perfect as an aperitif or as a celebration drink.
Method
First we ferment the juice of different apple varieties, using a Champagne yeast, in stainless steel tanks. The apples include Russet, Cox, Worcester and Bramley. After 12 months, when the ciders are fully fermented, we carefully blend the different varieties to achieve a balance of flavour and acidity.
We then ferment the blended cider for a second time in Champagne bottles and age it for 12 months. The gas produced from fermentation in-bottle gives fine Champagne-style bubbles, and also a sediment of yeast or 'lees'. The cider takes on some flavour notes from lying on the lees for this time.
We then riddle the bottles to collect the yeast in the neck of the bottle and disgorge the yeast so there is no sediment left in the finished cider. At this stage we add a small amount of sugar to give the cider a medium-dry finish, and close the bottle with a Champagne cork. The whole process takes two years.
Appearance
Crystal clear, pale gold in colour.
Nose
Light and delicately fruity.
Taste
Delightfully delicate bubbles and mousse on the tongue, developing into fresh apple, lemon and notes of gooseberry.