---
back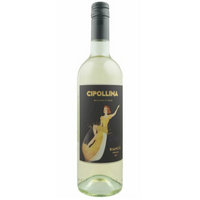 Cecilia Beretta - Cipollina Bianco Puglia IGT - Bright, Breezy Citrus & Herby Peach Malvasia - Puglia, Italy - 750ml Bottle
Regular price £11.99
Tax included.
Name & Appellation Cipollina, Bianco di Puglia, IGT Puglia, Italy
Grape Varieties 85% Malvasia, 10% Chardonnay 5% Fiano
Style Refreshing, zesty
Alcohol 12%
Vineyard & Winemaking details Gentle pressing and skin maceration at controlled temperature, to preserve freshness and aromas
Closure Screw cap
Vegetarians Suitable for vegetarians & vegans
Tasting Keywords Lemon-citrus, apple blossom, fresh herbs
Cipollina shows off Puglia's easy-going charm with a zesty, fruity and bright white wine.

Background
The indigenous grapes for our Cipollina Bianco di Puglia, come from the picturesque heel of Italy, where they benefit from the Ionian sea breezes and fossil-rich soils. The Malvasia grape is well-known in the Mediterranean region, having bee grown here for over 2000 years. It is generally used for the production of white wines, as well as for sweet and fortified wines such as Madeira. The grape is believed to have a Greek origin and the name is thought to derive from "Monemvasia", a Venetian fortress on the coast of Laconia; a port that had been a trading centre for wine produced in the eastern Peloponnese. The Malvasia grape tends to prefer dry climates with vineyards planted on sloping terrains of well drained soils and as result it has a strong historical association with island and maritime climates.

Although the Pasqua family are famous for their work in the Veneto region in the north east side of Italy, they originated from Puglia and have been working in the area for a long time, maintaining very good relationships with the local growers in order to source the best crops. Puglia is a very fertile land and has changed in recent years from being a supplier of bulk wine to higher quality production.

Vineyard information
Location: South of Italy, at the bottom of the heel of Italy, in the Salento area within the region of Puglia.
Climate: Mediterranean, with mild winters and very hot summers that enhance ripeness and the development of intense fruit aromas.
Soil: Limestone and clay, fossil-rich soils that give the wines character.
Philosophy: Sustainable viticulture, whereby the use of chemicals is strictly limited. The production is nearly organic, although not certified.

Winemaking Details
Grape Varieties: 85% Malvasia, 10% Chardonnay 5% Fiano
Fermentation: Gentle pressing followed by light maceration on the skin, to extract aromas. After separation of the skins from the juice, the must undergoes temperature-controlled fermentation around 15~16 degrees for up to 15 days, which helps maintain freshness and fruit aromas. The wine is then transferred to stainless steel tanks for a few weeks until bottling, to preserve all its aromas and flavors.

Tasting Note
A bright and breezy white with citrus and perfumed apple blossom on the nose. The palate has ripe citrus and peach with an undercurrent of fresh herbs and a zesty fresh finish.