---
back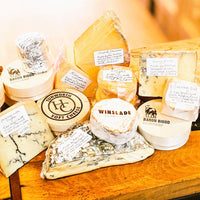 The Ultimate Festive Cheese Panorama: Our Grand Christmas Collection - Secure Shipley's finest Cheese board by Ordering Before 30th November
Regular price £58.00
Tax included.
"The Ultimate Festive Cheese Panorama: Cultures' Grand Christmas Collection
An Epicurean Journey with Every Bite
Embrace the festive season with a monumental selection of cheeses, each representing the pinnacle of artisanal craftsmanship. Curated from the prestigious Courtyard Dairy, our cheese assortment is designed to seamlessly accompany the intricate flavours of our Wine, Beer, and Ciders.
Delve into the opulence of our Grand Cheese Assortment:
200g Baron Bigod Brie: A raw milk delight from Suffolk, Baron Bigod Brie unfurls layers of creamy decadence, distinguishing itself as the UK's premier traditional Brie.

200g Hafod Cheddar: Hailing from the Welsh landscapes, this organic cheese is a symphony of rich, earthy undertones, capturing the essence of its lush origin.

200g Kirkhams Lancashire: This Lancashire gem, revered for its crumbly heart and buttery soul, imparts a memorable tang, an ode to time-tested cheesemaking traditions.

200g Dorstone Goats Cheese: Ash-veiled and soft, Dorstone encapsulates the zest of Herefordshire with its lemony zest and airy, mousse-like texture.

200g Stichelton Blue Cheese: A reincarnation of the traditional blue Stilton, Stichelton offers a balanced fusion of creamy texture and peppery spark, handcrafted with raw cow's milk.

180g Langres Brandy Washed Rind Soft Cheese: An aromatic indulgence from Champagne, Langres boasts a sunken centre, ideal for pouring in a dash of brandy. Its robust flavour and brandy-washed rind make it a festive season favourite.
Kindly note: Your selection will grace your doorstep just prior to Christmas, ensuring the cheese is in peak condition. Should you desire an alternative delivery time, kindly specify when placing your order.
Imagery serves a representational purpose. To heighten the luxury of your cheese soiree, consider pairing with our curated range of crackers & quince paste, available separately."