---
back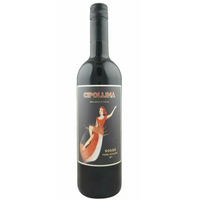 Cecilia Beretta - Cipollina Rosso DOC Nero d'Avola Terre Siciliane 2021 - Velvety Plums & Cherries - Sicily, Italy - 750ml Bottle
Regular price £11.99
Tax included.
Name & Appellation Cipollina Rosso, Nero d'Avola DOC Sicilia, Italy
Grape Varieties Nero d'Avola
Style Rich and spicy red wine from indigenous Sicilian grape Nero d'Avola
Alcohol 13%
Vineyard & Winemaking details From the sun-drenched vineyards of the western part of Sicily, stainless steel fermentation and temperature controlled to preserve the aromas.
Closure Screwcap
Tasting Keywords Plums, dark cherry, warm, spicy

Cipollina Rosso shines a spotlight on the characterful Sicilian grape Nero d'Avola.

Background
The grapes in Cipollina Rosso come from hilly areas in the west of Sicily. Nero d'Avola is a much-loved native grape, which thrives in Sicily's climate, whose warm temperatures and scintillating sunshine ripen these dark-skinned grapes to perfection.
The wine is made for us by the Pasqua family. Based in Verona and famous primarily for their wines of the Veneto region, they have a long history of working in the south of Italy and have partnered with small local growers for many years to secure high quality indigenous grapes for their blends.

Vineyard information
Location: Vineyards around the hilly provinces of Trapani and Agrigento in the South-West region of Sicily. The vineyards are on slopes and the wind that blows through them mitigates the high temperatures, bringing elegance and balance to the wines.
Climate: Mediterranean with mild winters and hot, sunny summers encouraging fruit ripeness and concentration. The summers are tempered by sea breezes that help preserve aromatic freshness and primary fruit flavours.
Soil: A mix of chalky clay soils, well-drained, encouraging the roots to delve deeper for moisture and nutrients, a combination believed to make them stronger and to give better quality fruit.
Philosophy: Sustainable viticulture, whereby eco-friendly practices are maintained minimising the use of chemicals in the interests of long-term biodiversity and balance in the vineyard, soils and surrounding environment

Winemaking Details
Grape Varieties 100% Nero d'Avola
Fermentation Traditional vinification, with a cold pre-fermentation maceration on the skins, in order to extract colour and preserve freshness of aromas. Soft pressing of the berries follows, in order to help extract aromas and colour but avoid bitter phenolic tannins. The fermentation takes place at controlled temperatures for approximately 7-10 days. Once alcoholic fermentation is over, the wine spontaneously undergoes malolactic fermentation for 20-25 days, adding complexity to the final wine and enhancing the mouthfeel. The wine is aged for 6 months before bottling, giving it time to rest and express itself at best.

Tasting Note
Richly cherry-scented with hints of violet, the palate has powerful flavours of ripe plums and dark cherries. Velvety tannins are accompanied by soothing sweet spices and a juicy, moreish finish.