---
back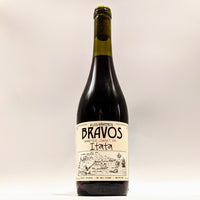 A Los Viñateros Bravos - Granitico Cinsault - Chile - Smoky Strawberry Jam - 750ml Bottle
Regular price £18.99
Tax included.
Let me introduce you to the remarkable Leonardo Erazo, who has created a stunning winery in the heart of Chile's Itata region. This is a place where the vines thrive in steep hillsides without the need for irrigation, and it's not uncommon to find ancient bush vines that are over 100 years old.
The soil here is volcanic and granitic, which provides an exceptional environment for root growth, resulting in vineyards that are incredibly healthy. Leonardo's philosophy is to let the terroir do the talking, allowing the wine to express a strong sense of place. His winemaking is refreshingly simple, relying solely on native yeast and cement tanks for fermentation and aging.
The result is an authentic wine that is full of life, vibrancy, tension, and freshness. With no heavy-handed intervention, Leonardo has allowed the wine to shine and reveal its full potential. At the heart of his winemaking philosophy is a desire to enhance the wine's capabilities and to bring out the very best of what this special region has to offer. So, if you're looking for a wine that is full of life and vibrancy, look no further than "A Los Vinateros Bravos" winery in Chile's Itata region.
Three words to describe this wine would be: Authentic, Refreshing, and Vibrant.