---
back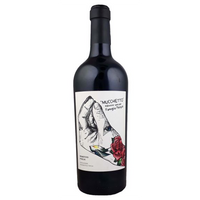 Mucchietto Primitivo IGT Puglia 2022 - Velvety Fresh Red Cherries, Sweet Cinnamon & Vanilla, Dark Chocolate Primitivo - Puglia, Italy - 750ml Bottle
Regular price £17.50
Tax included.
Name & Appellation Mucchietto Primitivo, IGT Puglia, Italy
Grape Varieties Primitivo
Style Warming, spicy red wine bursting with fruit
Alcohol 13.5%
Residual Sugar 10.49 g/L
Vineyard & Winemaking details From fossil-rich vineyards in the heel of Italy, hand-picked grapes are crushed, allowed to macerate for a week, then fermented in stainless steel at controlled temperatures. Matured for 6 months in French oak.
Closure Cork
Tasting Keywords Cherry, plums, sweet spice, dark chocolate
Sometimes no words are necessary. This wine draws inspiration from the hand gesture depicted on the label, known as a 'mucchietto' in Italy and roughly translating as "what do you want from me!?" A bold hand gesture for a bold wine, overflowing with rich fruit and sweet spices.

Background
Puglia's native Primitivo grape is said to be the same variety as California's gutsy Zinfandel and it thrives here in the Salento, the peninsula that forms the heel of Italy and the heart of Primitivo production.
Although the Pasqua family are famous for their work in the Veneto region in the north east side of Italy, they originated from Puglia and have been working in the area for a long time, maintaining close relationships with a number of local, family growers, to secure the grapes of the highest quality for their Puglian wines.
The name 'Mucchietto' comes from an Italian expression that roughly translates as "what do you want from me?" Like all good Italian expressions, it comes with an accompanying hand gesture, as depicted on the label.

Vineyard information
Location: the very tip of the heel of southern Italy – the area called Salento, in the Puglia region.
Climate: Mediterranean with mild winters, and hot sunny summers, enhancing fruit ripeness and concentration. The summers are tempered by sea breezes, which help preserve aromatic freshness and primary fruit flavours.
Soil: Limestone and clay, fossil-rich soils held to enhance the wine's structure and character.
Philosophy: Sustainable viticulture, whereby eco-friendly practices are maintained, minimising the use of chemicals in the interests of long-term biodiversity and balance in the vineyard, soils and surrounding environment.


Grape Varieties 100% Primitivo
Fermentation The grapes are picked by hand and brought to the winery, where they are destemmed and gently crushed. They are left in tanks to macerate at low temperatures for one week, in order to extract colour and flavour from the skins. Alcoholic fermentation runs at 22-26 degrees C for 15-20 days. After fermentation, the wine is racked into another tank where it undergoes malolactic fermentation to soften the acidity. The wine is then aged in French oak for 6 months prior to bottling.

Tasting Note
Fresh red cherry, with a hint of sweet spice on the nose, the palate is crammed with juicy plums and blueberries, cinnamon and vanilla, with dark chocolate. The wine has velvety tannins and an uplifting fresh finish to balance the rich fruit.