---
back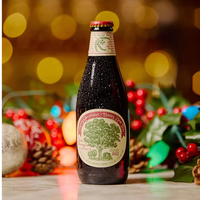 Anchor Brewing - Anchor Christmas 2022 - 7.2% Christmas Ale - 355ml Bottle
Regular price £3.79
Tax included.
In 1975 Anchor released the first holiday beer in America since Prohibition. Each year since 1975, Anchor Brewing has created a distinctive Christmas Ale. A rich, dark spiced ale, our secret recipe is different every year—as is the tree on the label—but the intent remains the same: joy and celebration of the newness of life. With a heavily guarded, secret recipe, Christmas Ale is sold only from early November to mid-January.
Along with an evolving recipe, Christmas Ale portrays a new label every year. Since ancient times, trees have symbolized the winter solstice when the earth, with its seasons, appears born anew. The tree on this year's label, a Blue Gum Eucalyptus (Eucalyptus globulus), was hand-drawn by Bay Area artist James Stitt, who has been creating Anchor's Christmas Ale labels since 1975.
The 48th annual Christmas Ale showcases notes of orange, honeysuckle, toasted malts, and eucalyptus. Well-structured with botanicals and pleasantly herbaceous hops, this rye-forward brew finishes with a touch of spice like the warming bitter-sweet notes of Amaro, an Italian herbal liqueur often enjoyed as an after-dinner digestif. The 7.2% ale pairs well with hearty winter fare such as Roasted Achiote Chicken with Mole or a sweet treat like Chocolate Bundt Cake. Anchor Brewing's recently retired Brewmaster Tom Riley drove the creative direction for the spiced red rye ale as the grand finale to his storied 38-year tenure at ABC.