---
back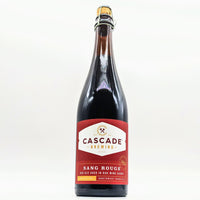 Cascade Brewing - Sang Rouge - 7.8% Red Ale Aged In Oak Casks - 750ml Bottle
Regular price £14.99
Tax included.
7.8% Red Ale Aged In Oak Casks
750ml Bottle
Sang Rouge is a blend of sour red ales aged in select red wine barrels and oak puncheons for up to 24 months, highlighting the depth and complexity of Cascade's base red ale without the influence of additional fruits or spices. This rare project features notes of roasted malts, dried currants, aged red wine and toasted oak. It's ABV is 7.8 percent.
Sang Rouge, which serves as the foundation of Cascade Brewing's Sang series, was last released in March of 2015, nearly three years ago. The 2015 project designation is due to the fact that this beer has been aging in oak casks on average of 24 months, with some barrels exceeding 30 months.
According to Tim Larrance, Cascade vice president of sales and marketing, "The release of Sang Rouge 2015 is exciting, not only because it's been three years since this beer was on the market, but also because we have also doubled our draft output, representing Cascade's commitment to increasing the draft availability of our brands."
Sang Rouge is a Tier Two offering; Cascade's bottles have distinct label styles for each of the three Cascade Brewing pricing tiers, with each label within the tier utilizing distinctive colors to clearly differentiate each beer. The tiers differ by the style of beer used in the product, the type ingredients contained within, the time aged in the barrels and types of barrels used.