---
back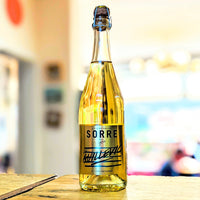 Cidre Sorre - Le Guillevic Breton - 3% Guillevic Apple Cider - 750ml Bottle
Regular price £8.29
Tax included.
Cidre Le Guillevic Breton is an artisanal cider from Sorre in Brittany, adorned with a beautiful golden colour, has the particularity of having been produced exclusively from apples of the "Guillevic" variety, typically Breton apples which give it tangy notes and a particularly fruity flavour.

This is an IGP certified cider made with apples from Brittany and 100% made in Brittany. Serve chilled, ideal as an aperitif and with dessert This top-of-the-range cider is distinguished by the rarity of the Guillevic apple and its so specific aromas: a special cuvée that we even nickname Breton champagne!

Cidre in Brittany is a longstanding part of the cultural heritage in the region with over 600 apple varieties. Life in Brittany has always been closely tied with apple, which is certainly different from the wine regions. Cider is truly a product from the terroir of Brittany, the best weather and soil for apple production. Apple harvest happens in late Summer / early Autumn, after picking the fruit is then sorted, washed, and crushed – the pulp is then pressed and the juice is left to ferment, converting sugars into alcohol. The cidre becomes naturally sparkling and is bottles and left to age in a cellar.