---
back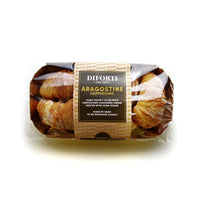 Diforti - Aragostine Filled With Cappuccino Cream - 150g Packet
Regular price £3.99
Tax included.
Our delectable artisan aragostine are a treat for everyone – your family, your friends or simply yourself. One of our most popular Italian pastries, these crunchy treats get their name from their lobster tail shape. We fill them with a bold, delicious cappuccino cream, and we dust each piece with icing sugar as a finishing touch.
This authentic Italian food delicacy is best enjoyed alongside a hot cup of tea or your favourite variety of coffee. It's the perfect treat, no matter the occasion.
*Please note, these pastries DO NOT require refrigeration. Once opened, please keep in a sealed container and they will keep fresh for up to 1 week.*
Pastry (54%): WHEAT Flour, Water, Margarine (Refined Vegetable Oils and Fats (Palm, Sunflower, SOYA in Variable Proportions) Flavourings), EGGS, Sugar, Salt, Vanilla Flavouring.
Cappuccino Flavoured Filling Cream (44%): Sugar, Vegetable Fats (Sunflower, Palm), Modified Potato Starch, Lactose (MILK), Coffee (1%), Glucose-Fructose Syrup, Water, Emulsifier: SOYA Lecithin; Flavourings, Preservative: Potassium Sorbate.
Decoration (2%): Dextrose, WHEAT Starch, Vegetable Fats (Palm, Coconut), Vanillin.