---
back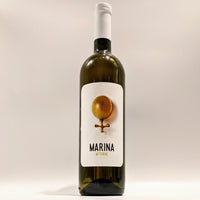 Iagos Wine - Marina Mtsvane - Georgia - Spicy & Complex with notes of Apricot - 750ml Bottle
Regular price £21.99
Tax included.
Mandili is a project of Marina Kurtanidze and Tea Melanashvili.
Both women wanted to make a wine that was both Georgian in spirit and also conveyed the essence of creation by women. They chose the Mtsvane grape because they both loved the wines that came from and they were also able to buy wines from healthy, organically-farmed vineyards. In this process they had the help of friends, and encouragement from fellow qvevri producers. Georgia has a very tight-knit wine community; vine growers and wine producers are being nurtured to grow, both in their outlook and in their businesses.
Winemaking in Georgia may have an 8,000-year heritage but it still feels like something done on a wing and very many prayers! The grapes – skins, stems and pips (the mother) are left in the big terracotta clay qvevri buried in the earth for six months, wherein they undergo their primary and malolactic fermentations. The vigneron can't monitor the wine during this lengthy gestation period, so after the primary fermentation is completed, the qvevri is sealed and the wine is left to tick over and receive its nourishment from the "mother". Many Georgians will say that the opening of the qvevri is like giving birth to the wine, literally putting it on its feet.
The Mtsvane is slightly more come-hither than the Kaketian Rkatsiteli and more al dente (if that's a wine term!) than the Chinuri grape which flourishes in the Kartli region in central-eastern Georgian. The Mandili version is simply gorgeous. The salmon-pink colour is inviting, the nose speaks of so many things including roasted apricots, crystallised citrus, even grilled mushrooms, and the palate encompasses tea, sake and a pink grapefruit tangerine-tang. Like the best Georgian wines, it possesses earthiness and real umami flavours balanced by energetic acidity and fine-grained tannins. Texture is an important dimension in wine, but it requires fluidity to bring all the components into relief. This wine has that fluidity.