---
back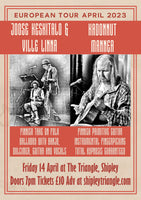 Joose Keskitalo & Ville Linna and Kadonnut Manner - Friday 14 April, Upstairs at The Triangle 7pm
Regular price £10.00
Tax included.
We're really happy to welcome back primitive guitarist extrordinaire, Kadonnut Manner back to the Triangle and this time he's bringing a friend in the form of Joose Kekitalo. 
Finnish singer-songwriter and underground folk legend Joose Keskitalo is embarking on his first UK tour ever in April of 2023.  In the past 20 years Joose has put out 10 albums of his music filled with melancholy and dreamlike visions. Most of his output has been sung in Finnish, but in 2019 he released an album of English versions of songs from his back catalogue under the moniker H.C. Slim, and in 2021 came "New Songs for Old Motifs", his first album consisting of original material in English.
Writing and singing in English is actually quite natural for Keskitalo as his family lived in London for several years when he was a child. The songs on "New Songs For Old Motifs" range from the wistful to the ominous, incorporating elements from the british folk ballad tradition. One can also hear echoes of Leonard Cohen and Will Oldham.On this tour Joose (acoustic guitar and vocals) will be performing music from "New Songs For Old Motifs" accompanied by multi-instrumentalist Ville Linna (banjo, dulcimer and backing vocals).
Joose and Ville will be touring together with Kadonnut Manner, the solo fingerpicking alias of Lauri Manner of Rovaniemi, Finland. who is travelling to promote  his fourth album "Finnish Primitive Guitar Vol 4" hot off the production line of Vinyl De Paris plant.
Kadonnut Manner's hypnotic, raw, and cinematic instrumental music invokes vivid imagery in the heads of those who hear it faster than any chemical would. The music draws its influences from John Fahey school of American Primitive Guitar playing, country blues of Skip James and Mississippi John Hurt and Finnish folk
music, but it doesn't require any prior knowledge from the listener, only an open mind.
Lauri Manner (b. 1983, Suomussalmi) is a finnish musician and sound engineer, who started out in the 90's playing bass in various finnish underground punk and rock bands. He started his journey in fingerpicking acoustic guitar in 2015 after listening to John Fahey records obsessively for years. More than 230 live shows and 3 albums later this (ex-?)punk rocker has more than enough experience to execute his ideas proficiently, but without losing the rougher edges of self-learnt musicianship and do-it-yourself spirit. Expect lots of open tunings, driving rhythms and a deep journey into unseen worlds created by just one steel stringed acoustic guitar.
Links:
Joose Keskitalo:
Hard Food for Midas (music video): https://www.youtube.com/watch?v=6WVn6Jjmw8E
I Will Not Be Your Dog (music video): https://www.youtube.com/watch?v=XFo7XcC2VUI
The whole "New Songs For Old Motifs" album on Youtube: https://www.youtube.com/watch?v=sUsmrUeRqvA&list=OLAK5uy_kK0p7UmetxuBNzXgtSz5e9WDvkBwoLYL0
On other streaming platforms: https://songwhip.com/joosekeskitalo/new-songs-for-old-motifs
Facebook: https://www.facebook.com/joosekeskitalo

Kadonnut Manner:
Hämärän vartija (2020) https://www.youtube.com/watch?v=C4Wt5ozyaHI
Lapin ja Lannan rajalla (2018) https://www.youtube.com/watch?v=jPou3W2QhMQ
Ylikonduktööri matkustaa kotiin (2017) https://www.youtube.com/watch?v=939dkQ_C9sE
All streaming services: https://songwhip.com/kadonnutmanner
https://kadonnutmanner.bandcamp.com/
https://www.facebook.com/kadonnutmanner
https://instagram.com/kadonnutmanner