---
back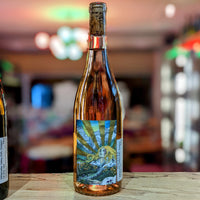 Kelley Fox - Nerthus 2020 - Oregon, USA - Alpine Fresh Muscat with notes of Peach & Apricot - 750ml Bottle
Regular price £31.99
Tax included.
I'm very happy to offer you this lovely partial skin-contact white wine (that is actually pale pink) made of 75% old vine Early Muscat from Eola Springs Vineyard and 25% Pinot gris from Maresh and Weber Vineyards.
All of the fruit was hand-picked. About 75% of the Early Muscat fruit was pressed as whole clusters. The rest, including all of the Pinot gris, was destemmed into small fermentors and pigeage in those fermenters was done by me one time per day. The whole cluster pressed Early Muscat fermented in a stainless-steel tank. After less than seven days, the free run of all fermentors was moved into the Early Muscat tank. I did not use any of the press wines this year.  The Nerthus was allowed to complete malolactic fermentation. Élevage was in a stainless tank until bottling.
The Nerthus has delightful, pale rosy pink colour with hints of peach and beautiful, brilliant transparency. It's visually very pleasing. The nose is full of fresh peach and apricot (stone-fruit) notes with floral and mineral notes. Though bone dry, there is mouth-watering peach and apricot fruit that is carried nicely by the racy acidity. This alpine-fresh wine is a real joybringer.
Appellation: Willamette Valley A.V.A.
Picking Dates:  Early Muscat (franc de pied vines planted in 1982 at Eola Springs Vineyard): 24 September. Maresh Vineyard Pinot Gris (1991 franc de pied): 28 September. Weber Vineyard Pinot Gris (franc de pied 1983): 29 September
Élevage: 4 months in stainless tank
Bottling Date:  21 January 2021
Alcohol: 12.5 %