---
back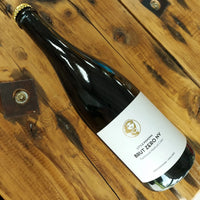 Little Pomona - Brut Zero NV - 8.1% Traditional Method Cider - 750ml Bottle
Regular price £22.99
Tax included.
Traditional method cider
Created over a period of six years, this brings together ciders from three different vintages, 2016, 2017 and 2019, and three different apples, Foxwhelp, Ellis Bitter and Ashton Bitter, all of which had been fermented – and in some cases – partly matured, in barrel.
After blending these together, the cider was sent to bottle with the addition of sugar and yeast to referment, exactly the same technique used by champagne and sparkling wine makers over the centuries.
After 22 months resting on its lees, it was disgorged by hand and we left the cider in its most natural state, declining to add a sweetening dosage, hence its name, Brut Zero.
Burnt gold in colour, the tarte tatin aromatics lead us to something that is rich and complex in the mouth. Creamy and softly textured, yet bright and racy in its acid. The fruit is a mix of baked spiced apples, citrus and red berries with some soft lingering tannins appearing at the finish. 
It's a cider for celebrations, special moments and grand meals. 
8.1% abv
Gluten free. No added sulphites. Enjoy lightly chilled.