---
back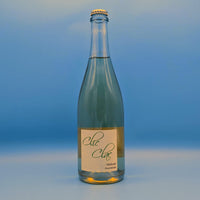 Mikaël Bouges - Clic Clac 2021
Regular price £25.00
Tax included.
Region:Touraine, Loire, France
Grapes:Menu Pineau
Vineyard:Organic
Cellar:Fermented with native yeasts, unfiltered & unfined, no additional sulphites
Clic Clac is Mikaël's pristine pet'nat of Menu Pineau, from vines over 60-years old planted over gravelly limestone. Everything here is done by hand; the wine is transferred from tank to bottle during the primary fermentation and then racked upside down on traditional wooden slats in contact with the lees for six months. This period of contact is what gives the wine its creamy, savoury depth. The wine is then disgorged - meaning that all this sediment is removed, by hand - leaving a clear, clean sparkling wine with plenty of green apple and lemon citrus, as well as a softness to the structure you might associate with this grape; Chenin Blanc's little sister. Because of the co2 present in the wine, this is the one cuvée that Mikaël is able to make with no additional sulphites.
Mikaël Bouges works organically over 8 hectares of land split into various parcels dotted around Faverolles-sur-Cher in Touraine. He learned to tend vines and make wine with his father who also worked organically as far back as the early 90s, so a thoughtful approach in the vineyard and in the cellar has been with him from the start. Mikaël seeks to express the varied alluvial soil types he works over, and only makes single varietal wine from each of the individual parcels. The changing course of the river Cher over the centuries has left a patchwork of calcerous limestone soils, much of which are speckled with quartz and silex.

The resulting wines are profoundly mineral and represent a real sense of place. In the cellar the wines ferment spontaneously and are not filtered or fined, with a small amount of sulphur used only at bottling. We feel they are very classical in their expression; clean, bright and with incredible purity. We love to show them to people who are in some way dubious about this very logical way of working - Mikaël's wines tend to put paid to the sceptics. The wines from younger vines are made in tank and are great for the table; the older vines see an extended elevage in old barrels and invite deeper contemplation.