---
back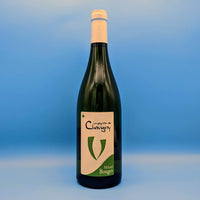 Mikaël Bouges - La Pente De Chavigny 2018
Regular price £18.00
Tax included.
Region:Touraine, Loire, France
Grapes:Sauvignon Blanc
Vineyard:Organic
Cellar:Fermented with native yeasts, unfiltered & unfined, minimal additional sulphites
Mikaël Bouges works organically over 8 hectares of land split into various parcels dotted around Faverolles-sur-Cher in Touraine. He learned to tend vines and make wine with his father who also worked organically as far back as the early 90s, so a thoughtful approach in the vineyard and in the cellar has been with him from the start. Mikaël seeks to express the varied alluvial soil types he works over, and only makes single varietal wine from each of the individual parcels. The changing course of the river Cher over the centuries has left a patchwork of calcerous limestone soils, much of which are speckled with quartz and silex.

The resulting wines are profoundly mineral and represent a real sense of place. In the cellar the wines ferment spontaneously and are not filtered or fined, with a small amount of sulphur used only at bottling. We feel they are very classical in their expression; clean, bright and with incredible purity. We love to show them to people who are in some way dubious about this very logical way of working - Mikaël's wines tend to put paid to the sceptics. The wines from younger vines are made in tank and are great for the table; the older vines see an extended elevage in old barrels and invite deeper contemplation.
La Pente De Chavigny is delicious, sating wine for the table, made from young vines of Sauvignon Blanc and completed in tank. The fruit shows great ripeness rather than typically overtly green characteristics, and as well as having a sharp line of acidity the palate is pleasingly rounded. After the fruit the trademark mineral notes hit on the finish like liquid rock. Refreshing, easy drinking but with a whole lot more going on than your typical entry-level Touraine Sauvignon.