---
back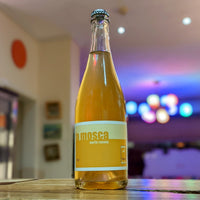 Nuria Renom - La Mosca - Well Tasty Orange Pet Nat - 750ml Bottle
Regular price £35.99
Tax included.
La Mosca 2020 is a Pet-Nat with a bold structure that is born from two types of Moscatel, refermented with a third batch of juice. 50% Muscat of Alexandria, 40% Muscat of small grain.
Nuria Renom, a charismatic personality and boundless energy. With a talent like few others and after having traveled halfway around the world, she decides to rediscover herself by returning to the countryside. 
He began making wines from his tiny vineyard and rented farmhouse in the Garraf National Park in 2014, while still working as a sommelier at Barcelona's Bar Brutal. Finishing up night shifts at the restaurant, he would hop on his scooter back to the Garraf to carefully tend his vines. These vines, worked with the utmost care and attention, would provide the fruit for Nuria to begin making minuscule productions of the wines that over the years have rightly earned her the reputation of being one of the most exciting winemakers to watch.
Now, something like a nomadic winemaker, Nuria temporarily settles in the winery of friends Anna and Toni from La Salada, while looking for her own space. Although she works a handful of her beloved plots, this gives her the freedom to work with some of the best winegrowers in the Alt Penedès and surrounding hills.
Sweet, fruity, but with a very subtle and tasty finish!