---
back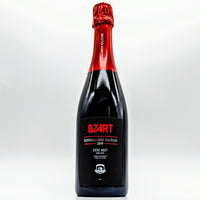 Oud Beersel - Bzart Kriekenlambiek - 8% ABV - 750ml Bottle
Regular price £22.99
Tax included.
8% ABV
750ml Bottle
bzart Kriekenlambiek Brut Nature originated from collaboration between Domus Ad Fontes and the brewery 'Brouwerij Oud Beersel'.
Oud Beersel is known for its lambiek (lambic) that is brewed according to the traditional artisan method and Domus Ad Fontes as a winemaker with the oldest vineyard in Belgium where beautiful, sparkling pure brut wines are made.

bzart Kriekenlambiek Brut Nature is a sparkling pure brut quality beverage based on "Kriekenlambiek Oud Beersel" (cherry Lambic of Oud Beersel) which is a craft beer produced according to the traditional rules of the "Méthode Classique".
Cherry Lambic is a Belgian spontaneous fermentation beer made of Lambic to which sour cherries are added.
The used "Kriekenlambiek Oud Beersel" is traditionally brewed with real sour cherries and with Lambic Oud Beersel that matured in wooden barrels. It contains some 400 grams of sour cherries a litre which is unique in its kind.
This kriekenlambiek is bottled and then the "Méthode Classique" (Classic Method) is applied during several months. This means that after adding sugar and a sparkling wine yeast, the "liqueur de tirage", this kriekenlambiek is re-fermented. Carbon dioxide develops and is locked in the bottle which causes the kriekenlambiek to become effervescent. Other intrinsical steps, such as the "remuage" (riddling) and the "dégorgement" (disgorging) follow, which eventually lead to a sparkling, refined beverage. It is typical for bzart Kriekenlambiek that no "liqueur d'expédition" (shipment liquor) is applied before adding the cork.
This beverage also combines the best of two worlds, the festive character of sparkling wine and the full flavour of artisan brewed kriekenlambiek.
Traditionally it is said that women prefer a glass of bubbly as an aperitif while most men rather have a quality beer. In some restaurants they have been searching for years for a beverage that will please both women and men.

bzart Kriekenlambiek Brut Nature ends this search beautifully and it is probably the first and only sparkling kriekenlambiek beer in the world.
This sparkling kriekenlambiek brut nature has an alcohol percentage of 8 % volume and is poured from bottles that contain 75 cl.
The taste and the aftertaste are quite "fraîcheur" (fresh) which make you remember the real 'kriekentaart' (sour cherry pie) of the good old days.
bzart Kriekenlambiek is a delicious aperitif and perfect to pair with dark chocolate, blue-veined cheese, game and all preparations with almonds.
bzart Kriekenlambiek is already mentioned on the menu of renowned restaurants and is distributed by famous beverage merchants.