---
back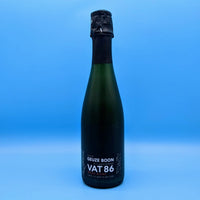 Oude Geuze Boon à L'Ancienne - Vat 86 Mono Blend - 8.5% ABV - 375ml
Regular price £11.99
Tax included.
8.5% ABV
375ml Bottle
Foeder N° 86 is an oak barrel of 5.000 litres from 1935. The foeder is part of a series of 2 pieces and was specially built to be placed on the ends of the barrel hall. Before and back are as big as a foeder of 10.000 L, but the dibs are very short, making the foeders look like tambourines and in our brewery got the nickname " tamboerkes Due to the many use, the front and back soils of these foeders were ready for replacement. This work was carried out in new French oak in the year 2016, making half the wood surface now consists of old oak (with its lambic microflora) and the other half of new oak.
The brew of April 28, 2016 was the first filling after renewing foeder N° 86. The Lambiek for Oude Geuze VAT 86 has matured on it for 2 years and 7 months. The assembly consists of 90 % of lambic from Foeder nr. 86 and for 10 % from young Lambiek. After bottling on November 29, 2018 and after more than a year further maturation on the bottle, this VAT 86 is ready to be drank. With a fermentation rate of 94 % the Old Geuze VAT 86 is not extremely dry, but very full, nicely balanced.
The new oak has contributed a few special aromas to the Lambic: keys of wood caramel such as in cognac and smoky vanilla aromas like in some whiskies. The lagering on oak wood also strengthened the fullness without making the beer astringent. The wild fermented in the Lambiek of this VAT 86 created a number of good additional flavors and aromas, especially some peach and tropical fruit.