---
back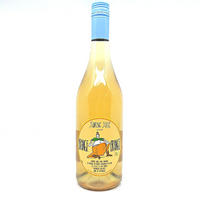 Patrick Sullivan - Jumping Juice - Zingy Mandarin-y Orange - 750ml Bottle
Regular price £22.00
Tax included.
Patrick and Xavier at Jumpin Juice offer their first orange wine, with a juicy, fresh skin contact wine & fruit sourced from the Riverland. It's equal thirds Vermentino, Fiano and Zibibbo & is bursting with floral perfume, zinging like a well-made mandarin kombucha
Its a wine that will make your taste buds dance with joy. From the moment the cork pops, you'll be captivated by its enticing aroma, a tantalizing blend of ripe fruits and subtle spices that promises a flavor explosion with every sip.
As you take your first sip, your palate will be greeted with a vibrant burst of fresh fruits, such as juicy berries and tangy citrus, complemented by a hint of earthy undertones that provide a balanced and complex taste experience. The wine's natural acidity and lively effervescence give it a refreshing finish that leaves you wanting more.
Whether you're a wine connoisseur or just starting to explore the world of wine, Patrick Sullivan's Jumping Juice is a must-try. Its vibrant, flavorful profile and unique character make it the perfect choice for any occasion, from a casual picnic to an elegant dinner party.