---
back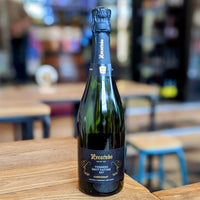 Recaredo - Terrers Brut Nature Corpinnat 2017 - Penedes, Spain - Dry & Deep Complexity from Tiny Bubbles - 750ml Bottle
Regular price £30.99
Tax included.
Depth and transparency. Complexity and freshness. The truest expresssion of our landscape emerges from the Alt Penedès region's mosaic of calcareous soils.
Recaredo Terrers 2017 is a completely dry brut nature sparkling wine, with no sugar added for sweetening. We recommend tasting Recaredo Terrers at 8-10 ºC.
65% Xarel·lo  ·  18% Macabeu  ·  17% Parellada
A wine that easily disproves the notion that Cava can only be cheaply produced, everyday fizz. This is a mature, complex Cava produced with a patience that we have not seen elsewhere! We actually shouldn't really use the word Cava as this is actually classed as a 'Corpinnat' - an offshoot DO that was created to ensure the wine was produced in the Penedès heartland to a specific quality level, avoiding bulk production, international varietals like Chardonnay & Pinot Noir fnding their way into the blend, and for a focus on the vineyard work being organic.
The wine has sat in the cellar maturing on its lees in the bottle for 38 months before being disgorged by hand. This kind of unrushed approach produces something that you could draw a parallel to Champagne or a decent Cremant with. The bubbles are delicate and impossibly tiny - something that can only be achieved with time, and the nose has that delicious bready aroma of brioche from the lees contact as well as ripe peach and zesty lemons. Didn't think Cava could be serious? Think again! Next time you reach for a celebratory bottle, consider this this little gem - you wont be disappointed.