---
back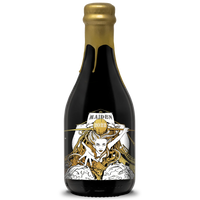 Siren - Maiden 2022 - 10% BA Barley Wine Blend - 375ml Bottle
Regular price £11.00
Tax included.
Maiden is our Anniversary celebration, a blend of barley wine aged in a multitude of barrels sourced from the finest wine and spirit producers worldwide. Each year's vintage is unique, and the Maiden 2022 blend consists of the following:
BARRELS - Bourbon 25% / Red Wine 17% / 10% Banyuls / 5% Cognac 5% Rum / 5% Scottish Whisky / 5% Tequila
FRESH - 19% Maiden "10" (10 hour boil) 9% Maiden 2023
Last year we sourced a heritage barley for the Maiden recipe for the first time, known as Chevallier. This variety was the first true malting barley, dating all the way back to 1824, and has been brought back to life by Crisp Malting Group for commercial use.
This year, as a 10th Anniversary special, our team also had a second fresh Maiden to utilise - a ten hour boil Maiden - which is rich in flavour and slightly bigger in body. Such was its impact that it actually makes up 19% of the final blend, with another 9% fresh Maiden 2022. The generous proportion of fresh Maiden has contributed to a real minerality in the blend.
There are rich fruitcake, spicy wood notes and a vanilla caramel character that the bourbon barrels have imparted. Expect a rising of complexity, age and fortified wine character as all the flavours build in harmony, before a tone shift, as an almost fresh, clean bitterness kicks in and brings everything back down to kilter. Keep an eye out for more on Maiden this year... this is just the beginning.
Vegan Friendly