---
back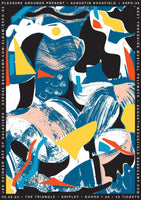 Thursday 30 March 2023 - Pleasure Grounds Present: Augustin Bousfield & Expo 92 - Doors 7.30
Regular price £5.30
Tax included.
Pleasure Grounds present -
Augustin Bousfield / Exp-92
"West Yorkshire musical polymath, I love this" - Stuart Maconie
"Layers and layers of beautiful sounds that waft and drift around you. Beautiful – musically and sonically!" - Local Sound Focus
Augustin is an electro synth pop performer/producer and composer from Bradford, UK and has recently co- produced and written for the latest Saint Etienne album, I've Been Trying To Tell You, the only UK Christmas number 1 flexidisc and played with Gurgles, Mucky Sailor, Henry Parker, Nope and many others.
He has had a one off BBC6music show and been played on 6music numerous times as well as being featured on Radio 1 as DIY label of the week. He's performed improv sound and noise, solo and with others at Bradford's Threadfest, Fundada Festival in Halifax, Vespertine Festival in York and the launch of the Doctor Who exhibition at the National Science and Media Museum with jazz pianist Matthew Bourne and baritone guitarist Andy Abbott.
Over the years he's also performed with bands at Glastonbury, Womad, Brighton Beach Festival, Lizard festival and across Europe. He has written theme and incidental music for lots of TV shows, a number of films.. He has also remixed bands including Dot Allison, Communicant, Printed Circuit, Deary, Cowtown and Lark
Recently Augustin has been working on new material with Saint Etienne as well as remixing various bands and cobuilding a synthesiser with The Nervous Squirrel He's also finishing a new Gurgles LP
Expo-92
It's 1993 and you have just entered a shopping centre. As you move through the entrance, you gaze upwards at the glass dome that rises above your head, like a cathedral, its crystal-like structure shimmering against the sun. Shafts of light fall through, landing on the water feature that greets you in the centre of the welcoming vestibule. Among the chatter, the footsteps, the aromas of perfume and fried food, you hear music.
This is that music.
Expo 92 is also known as Jed Skinner, 1/3 of the live dance band Galaxians from Leeds
DOORS 7.30
£5 Tickets in advance