---
back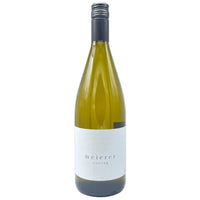 Weingut Meirer - Riesling - Honeyed Peach with a hint of Minerality - Mosel, Germany - 1 litre bottle
Regular price £18.99
Tax included.
Meierer Riesling is a wine that embodies the elegance and complexity of Germany's finest Rieslings. With its bright and enticing aroma of citrus and stone fruits, this wine promises to be a flavorful and refreshing experience.
As you take your first sip, you'll be greeted by a burst of juicy fruit flavors, such as crisp green apple and tangy lime, that are complemented by a hint of minerality and a refreshing acidity. The wine's balanced and delicate profile make it a versatile pairing for a variety of foods, from seafood to spicy Asian cuisine.
Meierer Riesling is crafted using traditional winemaking techniques, with a focus on sustainable and organic farming practices that help to preserve the natural beauty of the Mosel region. The result is a wine that is not only delicious but also environmentally conscious and socially responsible.
Whether you're a fan of Riesling or just starting to explore the world of wine, Meierer Riesling is a must-try. Its vibrant and nuanced profile is sure to leave a lasting impression and make you come back for more.
So why not treat yourself to a bottle of Meierer Riesling? You won't be disappointed - this wine is a delicious and elegant expression of the Mosel region's terroir, and a testament to the skill and dedication of its winemakers.