---
back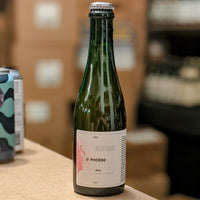 Wildflower Brewing & Blending - St Phoebe - 5.6% BA Wild Ale with Plums - 375ml Bottle
Regular price £11.99
Tax included.
5.6% BA Wild Ale with Plums
375ml Bottle
St Phoebe is an Australian Wild Ale refermented with plums. While the beer is named for Chris and his wife Emily's first daughter, Saint Phoebe was a first century deaconess from modern day Greece. In 2020, this beer was made from golden mixed fermentation, barrel aged beer and 722kg of fresh, tree ripened Ebony Sun plums hand picked from Thornbrook Orchard in Nashdale, NSW.

St Phoebe 2020 was made in a similar manner to St Abigail and St Thomas whereby we source and macerate whole, real fruit from Nashdale with barrel ripened Gold from our cellar. This year, the beer had a whole four months to hang out with these plums and soak up every last bit of their sweet plummy goodness before being blended and bottled in early July 2020. For 17 weeks the beer went through its ultimate fermentation in bottle for carbonation and conditioned concurrently. At this month of release, it is 5.6% ABV and super tasty. Strong skinsy pinot gris pet nat vibes. Lifted nose, perfumed (rose water) and full of ripe sweet fruit. Surprisingly funky and with a dark spice complexity. The palate shines, beautiful, subtly pretty integration with the fruit, creamy carbonation, sweet purple fruits and a moreish gentle acidity to finish.