---
back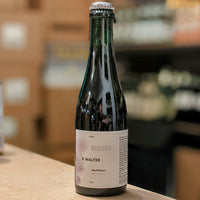 Wildflower Brewing & Blending - St Walter - 5.8% Black Muscat Wild Ale - 375ml Bottle
Regular price £11.99
Tax included.
5.8% Black Muscat Wild Ale
375ml Bottle
The variant made with Semillon was made by blending 4 barrels of mature, barrel aged Gold with hand harvested Semillon grapes from Tyrrell's Estate in Polkolbin NSW. On an early morning in January, we drove up to the Hunter arriving to the Tyrrell's Estate to try and beat the 40+ C heat predicted for the day and got to work hand harvesting beautifully ripe Semillon grapes. We finished before it got too hot and headed back to Sydney. We chilled the grapes overnight and the next morning transferred all of these whole bunch, hand harvested grapes into a variable capacity stainless steel vessel without destemming or crushing. We sealed the tank and allowed fermentation to naturally begin via the native yeasts on the skins of the grapes. After three weeks of sealed, carbonic maceration, we removed the juice at the bottom of the ferment and blended in two barrels of Gold and allowed the fruit to macerate and referment with the beer for 4 months. In June we blended in another two barrels of Gold for necessary structure and balance and packaged on 19 June and allowed to go through a tertiary fermentation for carbonation and conditioning for 11 weeks before release.


At release, the aroma is reminiscent of aged Semillon with golden honey notes, waxed lemon and pear skin. The colour and palate show the months on skins with a deep yellow colour and nutty, grippy flavours which open up as the beer warms with a savoury finish.